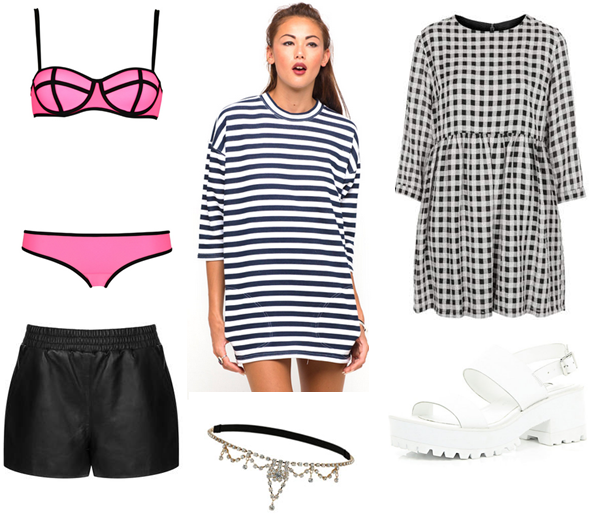 As you can see, today's post is aggressively titled "THINGS THAT NEED TO GET IN MY WARDROBE."
This rather violent tone is stemming from my total, utter and complete lack of money. This last uni term has been a long'un and unfortunately I felt a bit too young and wild and free when I received my second student loan back in January. Despite applying for many jobs, I am now (metaphorically) crawling hands and knees to my next instalment in a couple of weeks time. Thankfully, I'm safely back at home so my mum and dad are kindly keeping me from malnourishment/death's door. Ahh, student life.
I'm currently lusting after this beautiful stripy Motel Rocks dress after seeing Sammi (aka Beautycrush) style it flawlessly on her blog - the girl really does no wrong. The other smocked style dress wouldn't usually be a piece I'd gravitate towards, but this little checked Topshop number really caught my eye - i'm fantasising about styling it with black buckle boots, a floppy black hat, a leather jacket and bare legs.
Can we also take a minute to admire this DIVINE Triangl underwear set? I hadn't heard of the brand until recently when I saw a few items pop up on my blog feed, but after browsing the online site it's fair to say I would very much like all their stock in my life. This Lucie candy pink set has to be my fave, I think it would look ah-mazing in summer with a (probably still fake) tan.
Hope you're all well, and if you're a poor student like I am, struggle on young warrior – the loan is in sight.