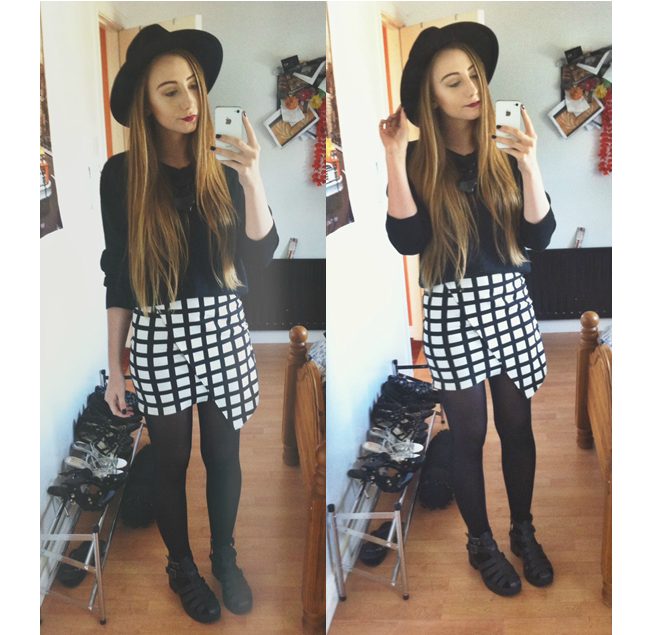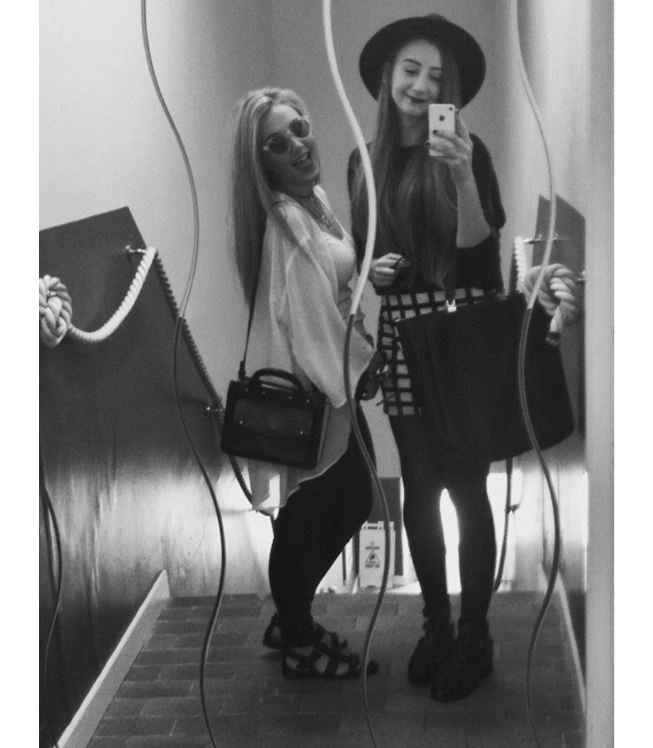 Me: Hat – H&M | Jumper – ASDA men's | Skirt – Primark | Shoes – Mr.Shoes | Bag – Zara | Lip pencil – 'Current' by MAC
Megan: Sunglasses – New Look | Kimono –H&M | Bag – zara | Shoes – Topshop
Forgive me readers for I have sinned.
I've probably broken the no.1 rule of blogging, which is 'thy shall not upload grainy snaps.' However my memory card full of pretty, clear, blog-worthy photographs has gone walkabouts, and I didn't want to leave you with absolutely nothing to read on this super rainy Sunday evening. (Because clearly this blog is your number one and the only thing you ever read, right?)
Moving swiftly on, these few pictures were taken a couple weeks ago when I was having a particularly good outfit day. And by that I mean that I managed to find the motivation to change out of my pyjamas and wash my hair. (I even wore a hat! Look at me go!) My best friend/photographer Megan and I meandered into town for a mooch about, her in her summer neon, me in my crypt keeper monochrome.
The hat I am wearing is from H&M and a particular fave of mine – every time I put it on I feel like I've upped my sophistication levels by about 50%. The hat is the answer to any crap outfit day, just pop it on with your laziest of outfits and you immediately trick the world into thinking you've made an effort.
On another note, Megan's bag looks so much like Celine and I'm seriously eyeing it up. How gorge is it?!
Anyway, that's all for now.
Hope you're not going to abandon me for breaking all ze rules (please don't leave, I love you all very much.)